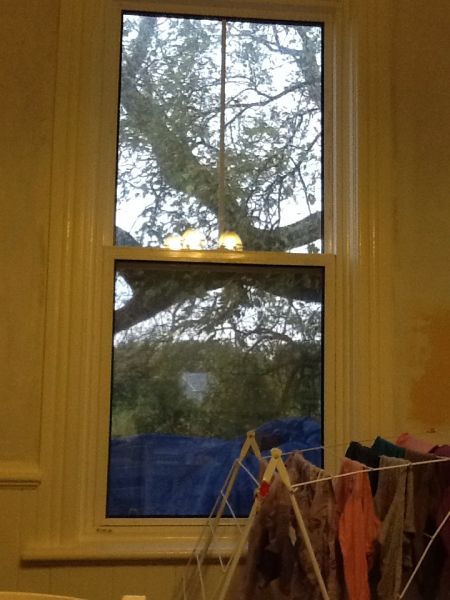 Is this finally the weathe we 'should' be getting? I think its the weather Ontario has been getting. The pic is of our our north window, the leaves are blowing around on the tree, the wood is hopefully somewhat more dry under the blue tarp and you can see the reflection of our dining room lights in the window. This window overlooks the river as well behind the tree. We've really had amazing weather the last month or so.
Today we're getting our final 4 cords of wood delivered, took a while, but there should be a good number of days of cutting left before the snow really begins to fall. The only problem is the wet ground for transporting the firewood. In total we will have had 12 cords delivered. In theory we should have wood left over, a couple cords or so for next year. Would love to have 2 cords left over so we can buy an even 8 next year rather then 12. Regardless, its still relatively cheap when compared to oil heat. Its about $1000 for 8 cords of hardwood (maple mostly). So this year we'll spend $1500 on wood, maybe another $100 on oil – winter is our low use season because of our wood hot water coil in the furnace. Really is quite a helper. Our fill ups are about 30 litres or something like that a month. Far cry from 600 litre monthly fill ups in Kensington! B-E-R-utal (brutal).
Now that we'll be ready for winter, I'm looking forward to maple syrup season. We're down to a cup or two of homemade maple syrup (manitoba maple syrup). Looking to restock that supply and maybe even try 4 taps this time – if I can keep up with it. I should try a hose method… hm,… good idea (making an ical event for next year!)
Winter season is a whole new experience every year. Can't wait to get the chains out on the tractor and plow some snow, try out our new lamp post lighting and hopefully have a generally easier time getting wood this year as I've improved my processes (by which I mean I stacked wood closer to the house and have it covered better).
Well, I have to look after fussy for a while. This will be my job for the next 15 or 18 years, until she is out of the house… 😛
This post has already been read 1125 times!