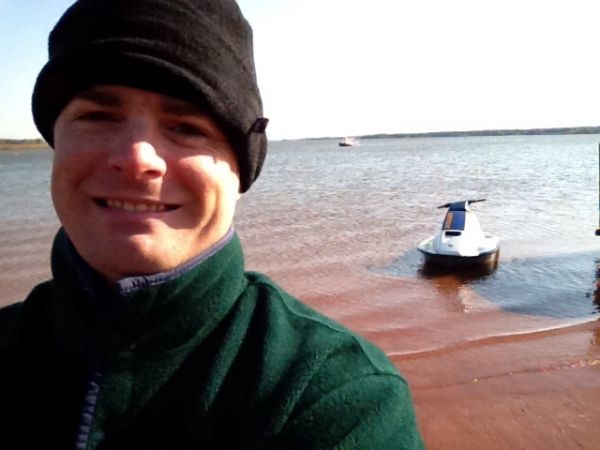 Not sure its the world record for in cold weather but I sure didn't see anyone else out on the water for pleasure this morning (13 celsius but blue skies and sunny).
This 8th of October though was the perfect day to both get some riding in and ready the 'doo for winter as well. I was prepared (though I did forget my life jacket of all things :/ …). I had my ipad for emergency calls / txts / emails. And I had my CanTire 500Amp booster pack – just in case the battery died again.
I bought a can of 'Sea Foam' which is a brand name I had never heard of, its for marine engines generally though. This stuff cured everything for the engine, or promised it anyways. Lubrication, cleans carbs, helps rejuvenate old seals etc… I'm never quite sure if that quick stuff you put into your fuel actually works but … must do something… right? Not sure if it was that or just that I got a good hour ride in but the engine at the end was running more smoothly. Half the battle was just getting it up to temp and letting it burn out or otherwise flush out all the junk that had been in there over the years of sitting around (its a 20 year old ski).
'Ski' is apparently the slang for these things, jet skis, seadoos etc.. DIdn't know that until I started watching youtube vids. Anyways, learn something new every day right!
Oh, and the wind was chilly and the water cold – I thought it would have retained the summer heat still but nope, it was cold. Probably brought down by the really cold weather we had wednesday / thursday or whatever. Cold where it hurt my feet just standing in it :S The solution for that was to get on the ski and get going. And GO it did very reliably and consistently – with a burp here and there. I was actually very pleased with how well it ran and even the improvement near the end of the engine smoothness. I think it did clear out the carbs a bit.
For winter readying, the sea foam also acts as a fuel stabilizer, just what I need for winterization. I think I do need to drain it a bit more so the water in it doesn't freeze..
I also don't think its burning oil like it should. Its a 2 stroke so if I don't see blue smoke coming out of the exhaust, I know something is wrong. I think I have air bubbles in my main oil line. Note to self, check that and bleed it for next year! Luckily the sea foam in the fuel also acts a bit like mixed gas so even if it wasn't getting enough injected oil, the gas in the tank at least was mixed a bit.
Oh, and then we went apple picking with friends, and I can make two more pies… And we went to a thanksgiving dinner with other friends, and THEN … I played hockey and we won! This saturday was packed with enough stuff for 2 or three saturdays I figure.
Great day though. Thanks to the Lord for all our blessings, and those abundantly!
This post has already been read 1246 times!