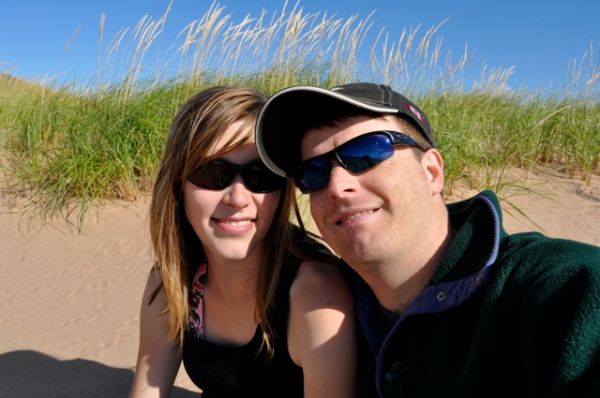 So its our anniversary today, we've been married 6 years as Lindsey reminds me. Our celebrations started thursday when I took the afternoon off. The plan was to take the seadoo out and have a picnic on a deserted beach somewhere. From a high level, that plan worked.
So first the seadoo wouldn't start at home. I spent a good 45 minutes pulling the plugs over and over, drying them off, screwing them in again, and trying all over. Mostly draining the battery at the same time (remember that as its key to our 'adventure' to come…)
Finally got it started and warmed and we packed up the car (Arden was at Carries for the day). We launched it on the beach in North Rustico harbour. So far so good. Then I started it and it took some winding but it wasn't working quite right. I road in circles for 25 minutes wondering why the engine wasn't getting up in revs correctly. I figured one cylinder was swamped and I'd have to get it nice and warmed up for it to start firing on all. When that didn't work, I realized the jet wasn't propelling as it should. I though, hmm,.. the impeller might be plugged. Sure enough, all the seaweed I launched it through was jammed packed in causing the troubles :/
Lesson #1 – Seadoos don't like any kind of sea weed. Nothing other then water actually (I had assumed before that they would just chew through seaweed. But you know what happens when you assume 😛 )
So got that figured out, the battery was more drained from starts, stalls, stops and winding… Still turning the engine over, the little battery that could for sure!
Next we packed up the seadoo and spent a few minutes trying to determine the best way to get 2 people on it at once – this too was new to each of us and was an adventure in itself. Once on, we took a trial run and all seemed good other than LIndsey being super scared – first time on a seadoo and all…
A loop or two and we were on our way to the end of Robinsons Island – there are sand bars everywhere and its fairly shallow in most places. We leared that the seadoo needs atleast a foot and a half or two of water for two riders to get on it and go. More engine stalling, starting, attempts as we fumbled with that. Battery drained a bit more
Lesson #2 – The seadoo needs more water depth then I thought it did, especially when there are 2 riders, the backend of it sits fairly low which means stuff gets sucked into the impeller easily effectively slowing or stalling the motor since its a direct drive system.
We doo'd a short distance around the other side of the Island and got into weed territory. We were off shore by 200 feet or so probably. We sucked in weeds and the engine died. Stranded in the middle of the water we tried to start the engine a few times with no luck, too much crammed in the impeller :/ So I jumped into the deep dark waters – thankfully it was only 4 feet deep but murky and lots of sea weed. I cleaned out the impeller but at that point we were too far away from open water to attempt to start it again, as it would just suck in more seaweed so I slowly pushed the seadoo with Lindsey on it to shore.
From there we beached the 'doo and proceeded to have a nice picnic on a deserted island just as planned. I also popped out the surprise Non alcoholic apple cider 😉 A little nod to our engagement picnic. I had it hidden in the hull of the seadoo under the storage compartment, sneaky indeed!
So we had our sparkling drink and some gold fish (the cracker variety), sat there for a while. The sun was actually nice and warm but it was windy out.
We decided after a while that we'd better try the seadoo again. We packed up, loaded the 'doo again and tried to start it, it wasn't firing, and after turning it over a few times the battery was really starting to slow down. Because of Carb issues, the motor takes a bit of winding over before it will decide to start, gas suction issues I think, easily fixable but not as of yet.
Next we pushed the 'doo around to the point where we could cross and where the waters were deeper. The current was stronger as the tide was coming in and no boats in sight to tow us so we beached the doo and realized we had to walk out of there. So… we walked 2 kilometers or so until a car came a long, an french couple looking to go for a little hike. We were in swim suits, wet sweaters and generally dirty and salty and really nothing much else other then car keys. They graciously offered to drive us ALL the way to North Rustico! Very nice of them, fellow islanders but also fellow 'from away'ers as they didn't grow up on the island. We interrupted their evening a bit. They decided to sight see from the North Rustic habour side instead since they made the trip there for us anyways. So we drove the car and trailer home, seadoo-less…
Next day, Lindsey got a call from search and rescue 'notifying us' that our Seadoo was on a beach (call was from Halifax S&R. I also got a call from the park warden – the 'doo was on park land. Each asking us what happened, how they found us (since the 'doo isn't registered to me yet) Turns out the wardens had thoroughly searched the Seadoo looking for details. Found the 2 life jackets stuffed into the ill for safe keeping and our concealed bottle of sparkling apple cider which S&R happened to mention – they definitely found everything we were hiding! Fortunately no legal issues :S Taxpayers dollars well spent? Its good practice right? 🙂 They were able to close their case, two people, still living, no drownings…
That night, the day after the outing, I called up a friend with a boat and he helped me go rescue the seadoo. And wouldn't you know it, it didn't need a boost or a tow, it started right up and I rode it the rest of the way back to harbour and onto my trailer.
And thats the story of our anniversary seadoo outing 2011. What did you do for yours this year? 😛
And i have no pictures unfortunately so if you're 'one of those', then it didn't happen. But its otherwise indelibly written on our memory banks.
This post has already been read 1914 times!