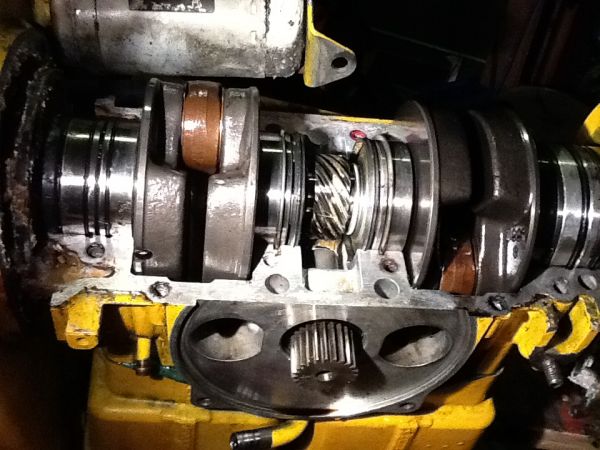 Dads legacy on us means a lot of things. One piece of it is the knowledge and confidence he gave us to fix stuff, to work on engines, to tackle unknown issues and find a solution. A big part of 'Micah' is the ability / trait / skill / inclination(?) to fly by the seat of my pants on stuff and hack stuff. Just 'get er dun' is what I like to say. It just needs to look ok in the end and get the job done. Anything more is a bonus, anything less, and I mean any tiny bit less is likely sloppy. I walk that fine line 😉
Stuff is just meant to work, and looking nice is the icing on the cake. I used the same sort of philosophy on our house and all the things that need to get done on it. Its not MIke Holmes standard, but then what work is :S He would tell us to burn this place down (and tell us that it was the location of multiple grow-ops… :/ )
Anyways, that was / is part of dads legacy at least for me. The image is the crank of a '91 Bombardier Seadoo, Rotax 587. I bought the seadoo basically on a whim, we were at the beach, me with my iPad, I saw a few seadoos fly by and I thought to myself, I said 'Self, I needs to buy me one of these'. So I loaded up usedpei.com, not much there, then I search on usedmoncton.com and found one for $400. Engine issues. So I took the chance and with my lack of fear for engines that my dad taught us, I got it thinking I might be a able to fix it. Well, it turns out it was more damaged then I thought but fixable nonetheless for a $50 part. That part though was in the bottom end, right above the crank so that meant I had to pull the engine out, and tear it right down.
So this is part of what Dad taught us. Growing up we had a few engines apart, a 3 wheeler engine, I think we replaced a piston and rings in that, had another engine that we needed a spark plug hole healy coil. We've done patch work on cars (sheet metal, rivets), we've adjusted valve spacing, all sorts of things.
All of it adds up to me taking a chance on an unknown engine and getting a recreational vehicle for a lot less then I would otherwise have to pay, simply because I can put a little effort and time into it myself, figure out what is wrong, how to fix it and where to get the parts. Its also a good hobby, stress reliever, change of pace and it will also be something I can potentially make money on later just because I took the time to fix it myself. Most people these days aren't willing to do any work like this and would simply take it to the shop and spend hundreds of dollars to get it fixed. Actually, they likely wouldn't even do that, they'd use the excuse to go buy a new one 😛
So thanks dad for teaching us, being patient, passing along knowledge and a sense of ability and fearlessness in that no job or very few at least are too hard to do by average old joe public.
Any who, long story to say that anybody can do anything if they put their mind to it, and if their parents pass along what they know and aren't afraid to learn new things, that teaches their kids to pass knowledge along for the next generation and to not be afraid to learn new things, and to figure stuff out.
The new engine part will be here next week, so I'll follow up with any success or failure there. But.. whether good or bad the outcome, I've learned a lot about seadoos, how the cooling system works on them and such and am generally more familiar with them.
This post has already been read 1199 times!