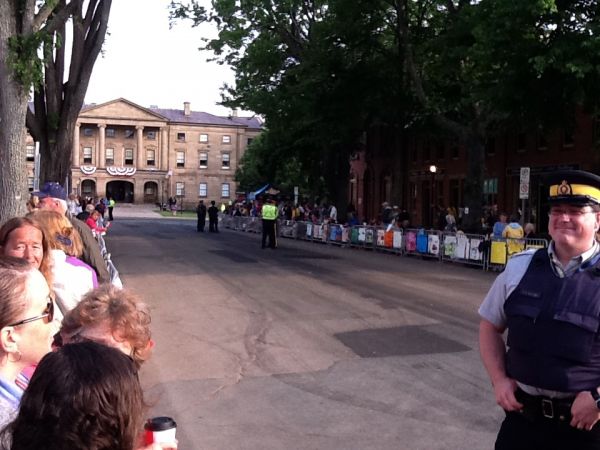 The last two days we've had visitors over for supper which is always a lot of fun. Now that we have a house, its a great opportunity and privilege to be able to host people here. Everyone enjoys free supper right? 🙂
Its been nice and warm the last couple days, the ONE day it rained was the full day WIll and Kate were here unfortunately. THe day after it was nice and sunny 😛 Ah well such is life. They are as I type on some retreat, a little time off from the tour before going to the Calgary stampede. I really enjoyed the opportunity to see them. They seem so willing to meet people, and genuinely happy and enjoying it. It really allows people to like them and to see them as their 'own' royalty. After chasing them, it seems to me as if we've known them for years which is weird. I never disliked the monarchy but now after having seen them, now I would say I'm more actively on the like side of things. It really brings it home that they are part of Canadas royal family too, not just an England royal family. I enjoy the heritage and history there like I said before and it really renews the spirit of fascination and history in Canada when a couple like this tours. I think its especially meaningful that they are young, really speaking to a whole new generation of Canadians growing up who otherwise were likely indifferent to the monarchy.
I'll be happy to see them come again, and likely if any other royals come this way, we'll probably make the effort to go see them just because it was so fun following Will and Kate around. Its one of those great FREE adventures. FREE is always good when looking for fun activities to do.
This weekend we have relatives coming over. The second bunch of many family and friends who are visiting us this year. Love having a large house and to be able to host lots of people. That was one reason after all that we did get a larger house. Its also supposed to be a more dry and warm summer this year – due to global warming – and I for one am not complaining 🙂
Happy to have a nice warm summer.
This post has already been read 1165 times!