Its a great sunny saturday today, and an early morning for me. Its about 10 degrees out. About as warm as its been so far this year I think so working outside is nice. Super nice to get outside, see green grass growing, and clean up the yard a bit.
The first pic is of our wonderful little house – and its actually by no means little inside 😛 Lots of cleaning, lots of cherios all over the floor. I swept the dining room floor already, and now 'fuzzy' is mopping and dusting it with her hands and knees. See, children are good for things 😀
So the fire is still going but barely as the sun warms up the house real quick when its shining brightly. The windows are all open to air out the house and Lindsey has clothes on the line too. Course not the first for the year on that one. In our nice little house we had pancakes and bacon this morning with REAL maple syrup, part of Gods provision and bounty.
(Another brutal thing about the wordpress app that I'm using for this one – because of the ability to upload photos directly – is that with the bluetooth keyboard, the edit window is still have screen with an invisible keyboard space still left, so you can only use half the screen with a bluetooth keyboard :/ … really? No one tested this? They really need to ask me to test it for them 😉 )
Ok, less complaining. We are blessed and I really have no reason to complain, our lives are pretty easy and we live in such a beautiful place. We own a house! Thats amazing! And a really fun experience.
Here is a list of our projects for this year,… or at least left over from last year to be completed as soon as we get time / money:
4th room upstairs
Bathroom trim and painting
Gutting of downstairs walls that are moldy and reno of office downstairs
Leveling of pool table so we can actually use it
Wood shelter outside
Finish decks, front needs stairs and back needs 527 screws in it to tack down the planks
Oh, and grade the lawn to stop any more water damage!
And I'll leave it at that for now. There are probably more..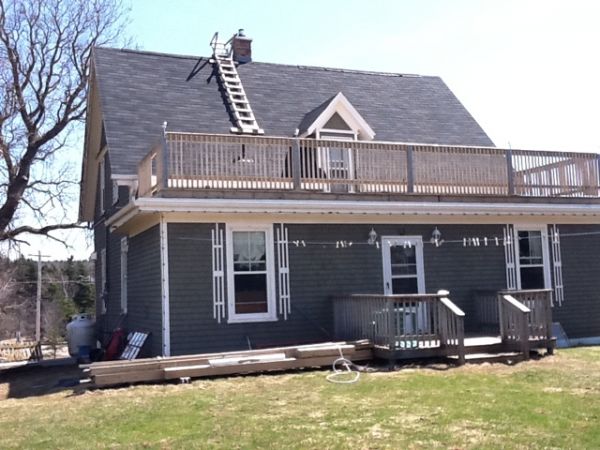 This next pic is of my big bad bike. My 2003 Honda XR650L. Got up early for 8am to take it to get inspected. Didn't pass. On the list to get fixed before passing? Wheel bearings, signal bracket, brake lever (it has the end busted off but still works :P…), and handle bars (bent since one of many crashes in the NWT). So all that stuff is ordered and should be ready on wednesday. Most of which I'll slap on myself, and then go get it inspected again, hopefully to pass this time! I can't say the bike doesn't need any of that stuff… and sure, I suppose it might help with safety overall but then… who rides a motorbike worrying about safety?? I tell ya… Had a nice ride into town for the inspection even if it was a tad cold. Mr. Joe Rocket served his purpose well.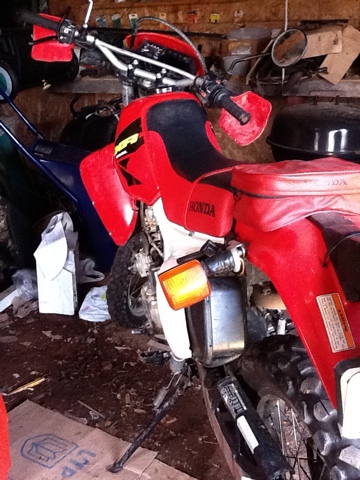 And finally, one of 2 old pieces of furniture left by the previous owners of the house in the shed. Used currently to hold greasy tools. Lindsey wants to refinish them, the image shows an old table thing with wings, and the other piece is a cupboard with doors. Both of which are wet, in various states of brokenness, and would need a good power wash and general scrubbing before being considered something usable in our house.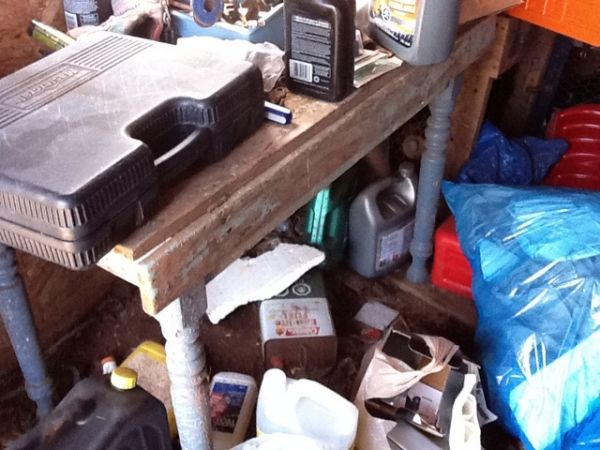 This post has already been read 1209 times!