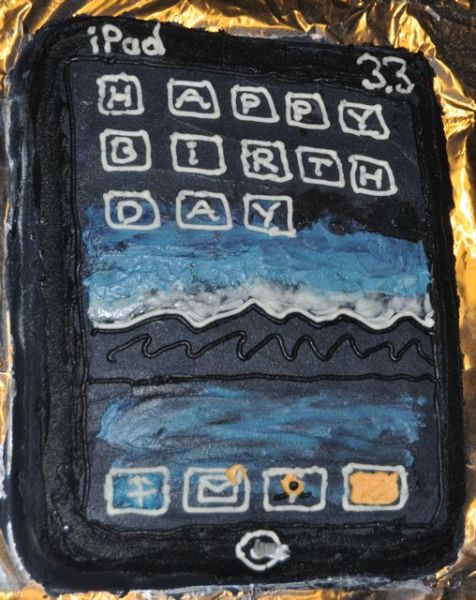 Its the morning after my birthday. I had an excellent time with my love and our daughter. My beautiful wife made me a cake that looks strikingly similar to an iPad. But first, we had nice and hot green curry, and that was awesome!
We watched the newest Robin Hood and had a nice relaxing time for my 33rd birthday.
In other news, the seam filler is back working away, bathroom is well on its way now and thats great!! And the plumber was here and is gone now, all done for that part. Can't wait for the weekend, more projects, another hockey game, more time to relax. We had a busy weekend! Can't wait for us to have a boring weekend again, hopefully sometime this winter. Can't wait to get out on the lawn tractor with my plow on a snowy morning and toodle around burning fossil fuel. Its chilly here this morning, says 10 degrees celsius, likely dipped down a bit more. The oil furnace is running right now. Need to get some more work done on the boiler before we can get the wood furnace going. One more stab it at this weekend should do the trick – its only tuesday,.. I just realized :/ boo-urns… Anyways, a good birth day and birthday, a great wife and our new daughter completes the picture of my life! I thank the Lord for all good things, praise His name!
This post has already been read 977 times!