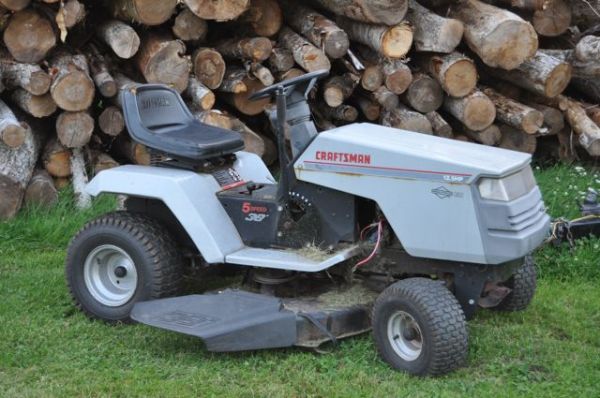 Here is the lawn tractor I got for $100. It was a great deal, the only thing wrong with it is the ignition solenoid. $22 replacement cost from Canadian Tire (ordered and on its way!) For now I can bypass it and jump the starter directly.
[youtube WcxybkNmQw0]
Here are the specifics:
Make: Sears Craftsman
Model: LT4000
12.5 HP Briggs and Stratton Industrial / Commercial Engine
38inch cut width
The deck has some rusty bits, a small hole in the top as well. I'm just going to put lots of rust paint all over it, it'll look like new. And I got the blades all sharpened up – next purchase I need is a power washer to clean it!
I've always wanted a lawn tractor, always thought they were so cool. And it makes mowing the lawn so fun. I've no idea why, its just so fun.
Some accessories I want to get:
Snow blade for winter
grass bagging attachement
Utility trailer (might make my own)
Bigger tires so I can raise the height of the deck further
This post has already been read 2544 times!