From Wikipedia:
The lion is a common charge in heraldry. It traditionally symbolises bravery, valour, strength, and royalty, since traditionally, it is regarded as the king of beasts.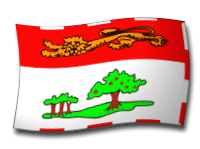 The Lion Passant (I think its the Passant one) is on the PEI provincial flag. There are many different versions of the Lion, one 'pose' is termed 'Passant'. The others can be found here: http://en.wikipedia.org/wiki/Lion_(heraldry)
From Wikipedia: The upper third of the flag features the English heraldic lion which appeared both on the coat of arms of Prince Edward, Duke of Kent, for whom the province is named, and on that of King Edward VII. The lower two-thirds show an island on which appear three small oak saplings (on the left) – representing the three counties of PEI (Prince, Queens, and Kings) – under the protection of a great oak tree which represents Great Britain. This symbolism is also reflected in the provincial motto, Parva sub ingenti (the small under the protection of the great).
Why is it cool? It an old symbol of the travelers from England and Scotland to the Island. I have a Lion (forgotten the pose) on my pocket watch I purchased in Edinburgh Scotland. Its just a symbol of history and power and it reminds me where all the 'new world' was populated from basically.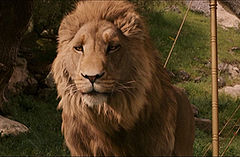 It kinda reminds me of Aslan from the Narnia series as well, guarding the kingdom and lands. It reminds of a time when Kings and Queens rule – in a small way they do as Canada still recognizes the monarchy but for day to day life, thats something that doesn't really affect us. Its a bit of a fairy tale dream when there were knights and peasants, you worked a hard day for not much money – well, if you were poor anyways. If you were rich, you lived in the big castles like up in Scotland in the highlands.
This post has already been read 1871 times!