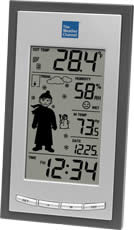 Felt the need to write a blog, dunno why. Its a grey, really grey rainy day here. The little guy on our 'the weather network' weather station is dressed in a raincoat and has his  umbrella handy and the clouds above him show precipitation of the liquid sort (unlike the image beside).
Currently we're waiting for CMHC approval, I expect to hear something today so we can get the mortgage approval. Yahooo! We're praying that the Lord is guiding us, helping us make wise decisions, and that we can afford owning a house and all that. Its a big change, for anyone I guess, it being our first time.
The baby is rumbling away everyday inside Lindseys tummy. So far so good, all healthy as far as we know. It could come any day now apparently. Wish I had a month off but then I'd probably be bored until it came. If we had the new house, I'd have no end of things to do!
We live in such interesting times biblically speaking. So many prophetic things underway in this world – although i haven't even seen the National lately because of hockey, I've been going to bed quite early. I probably don't need to. I haven't been watching hockey really. Its all snowy cause of our reception with the rabbit ears. One thing about hockey is that if you can't follow the puck, its hard to really get into the game. I wish the age of free streaming stations off the Internet was here but its not. Lots of people will say it is but where can I stream the CBC tv station all day? I'd love to stream that free and clear all day to the TV. They only have episodes that you can stream and even then the streaming seems to have to buffer every 10 seconds which is brutal for watching :/
AND, Spoon.net doesn't work on Safari or Firefox on Mac… (to add to all of this 😛  ) Whats up with that?
This post has already been read 1329 times!