We've looked at 10 houses or so now, ones that were really cheap (and needed lots of work), ones that were beyond our comfortable price range (and didn't need much work at all) and then those that are near the top of our comfortable price range which also don't need much work, other then some cleaning and finishing touches here and there. I'm glad our 'high' price range is in that category. I personally like that we will be able to do some fixing up that will improve the resale of the house. I wouldn't like to move into something that needed nothing to be done because from that standpoint, all we could do by living there is decrease its value 😛 Or,  have it stay the same anyways. No, I like that we may have the opportunity to put some work into a house and potentially sell it for more down the road. Its an investment right?!
We saw the one we had been WAITING for 3 weeks to see! 🙂 Happy to say we saw it and it definitely lived up to our expectations, which is odd cause so far our experience has been that the photos on mls make the house look better then it turned out to be (in most cases anyways). For me, it actually surpassed expectations, and by  fair margin. Bad advertising? Maybe, methinks they could have added SO much more to the listing than what is there in terms of number of photos, description etc.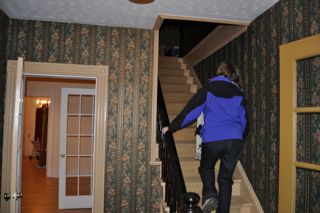 To me, its almost like a castle, its massive! 2700 square feet might be underestimating its usable size. Sure that only includes finished areas I suppose, still, it feels large. It has a nice original staircase leading up to 4 bedrooms and a full bathroom, what I like most is the large landing at the top of the stairs though on either side of the staircase. Very nice space! It includes what appears to be a possible deck overtop the addition accessible from a door on the top floor. I kinda don't want to say too much about it right now, we're not decided on it and things could totally change. The Lords Will be done there indeed! We're praying for direction, that He would put us in the right place / location to bring up our new baby.
That being said, this house is easily still top of our list and by a large, large margin considering what we've seen so far. Stay tuned for our next adventure in buying a house!
This post has already been read 961 times!