I'm looking forward to a great summer this year, busy though. A child on the way, then a brand new house (well to us anyways) that we own, then TONS of friends and family. Still quite sad to think though that my mom won't be able to see our our new baby in person or our new house. I'm glad she did however get to be with us the past summer here, mom and dad helped us move and I know that was long and tiring for them! Thanks mom and dad! You can see the pic below of mom and us (Lindsey is behind the camera) at a chocolate making store in Victoria by the sea. Mom loved sweets and so do I actually! She went all out for these things, she loved to do the coffee / tea thing anywhere we went.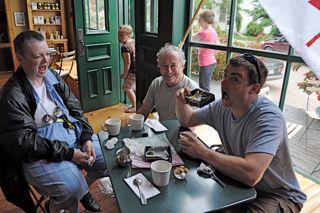 We had a good time then walking along the beaches, driving around. My parents never stopped helping us and still haven't! I hope to be a parent like that one day!
It all makes me want to enjoy and savour the times we have this summer as if it were our last. We have so much planned already, so many people coming to visit, dad, Lindseys parents, and then all the people vacationing here this summer, and oh, before all that Christen is coming.
One thing Lindsey and I enjoyed last summer was evening drives with the sunset and the vacant beaches cast with shadows. When all the tourists go home for the night and the evening cools a little, we would take a drive to one of the coasts and just enjoy the sights or walk on the beach. What a beautiful place this is and I'm so glad we were able to move here. I miss Ontario in some ways,  the forests, driving up to the Muskokas, all the historical places that you could drive to. Lotsa great things that we'll be able to take our children to see when we go there on vacation 🙂 . For me though the simplicity of life here is what is valuable, even with our busy lives, the highlights will be the evening breezes, the sunset and the wind blown sandspits all enjoyed with lots of family and lots of friends!
This post has already been read 1100 times!