I think most know, who actually make the effort to come read my blog, that my mom is battling cancer. This is the second time around and, such is life, its not operable.  Thinking that there may come a time without mom around is very sad, something I think most don't need to worry about until they are much older.
Here are some great things about my mom. She has always been one of the most kind and patient people I know (and I do know this because I stretched those limits for years while growing up)! She is the one who made sure we went to sunday evening service, she is the reason I play instruments in church, if she didn't push all us kids, we certainly would not be doing it now. Through her is the musical ability, thats where my 'ear' came from for music and playing and singing.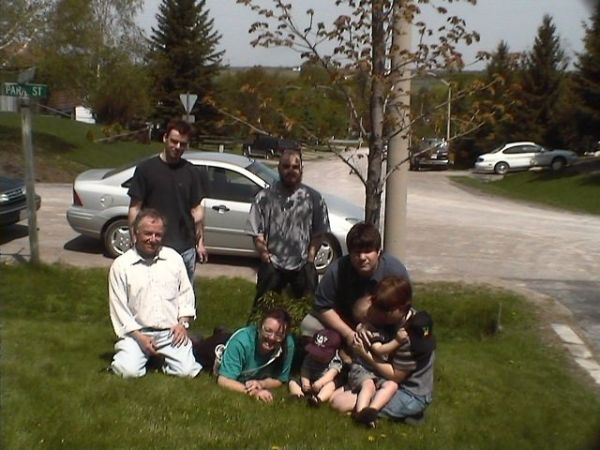 Here is a list of things mom did for us and things about her:
Taught us how to play instruments
Kept us going to sunday evening services even when we didn't want to
Taught us about creation science and how the bible is true in genesis!
Taught us about bible prophecy and she has been into it all this time even when others disagree
She was always and still is super patient, always working to remove conflict
She always took us to hockey games, in snow storms, in towns we had never been to like Bobcaygeon, Minden and other places around the Ontario country side.
She was always around for us
She always worked hard and got all the cooking and cleaning done with us three kids kicking and screaming the whole way
She love us so much and was there for each of us as we grew up
She was always in a good mood
She was always willing to help us
She was always praying for us (and I think we all turned out very well even though we certainly weren't easy at times to deal with)
She and dad showed us what a real marriage was like, that they didn't separate when money got tight or things got hard
She shows us what it is to be committed to church and reading the bible
She always had conversations with us about hard subjects and embarrassing subjects, it was her opinion that its ok to talk about all that stuff and I think as a parent thats a good thing. (we need to hear things from parents even if its weird rather then from school or somewhere else first)
My mom has been many things for all of us and has worked hard to bring up 3 kids and we're all pretty normal now, with good '9 to 5' jobs (she used to always tell us that we just need a 9 to 5 job, which means a steady job that isn't necessarily fancy but provides steady income).
My mom was in a way a more behind the scenes person, low profile, just getting things done, she was and is always kind, loving and with a smile regardless of how she feels. She cares about us with no limit (and we have tested that over the years for sure!)
Now that I'm 30ish, I'm thinking,… where did all this time go. Now we are just like they were 30 years ago, newly married, starting out with children (one on the way), our parents are getting older, and the cycle continues. As a child, at some point you kinda wish things never changed, you wish that parents would always be around, always there to back you up, to take you out to dinner, to let you sleep at their place for free anytime you needed it, and to come rescue you anytime you needed someone in the middle of the night to drive somewhere or whatever. My mom and dad were like that, there was never a time they would not help us. They helped us each through college / university, they taught us so many good practical things, they both taught us to think for ourselves, to reason for ourselves and to be able to defend our views as well.  They paid for sports, we always had new shoes and new cloths for school and so many other things.
Mom would also always give me money for fries in high school because she knew I wouldn't often eat whatever lunch she would make (I never ate sandwiches). So she would always be there with 3 dollars so I could eat a warm lunch at school, that was only because she loved me and cared that even if I didn't eat a sandwich, I would have food somehow. Most the time I think she paid out of her own teaching money. My mom could even drive a standard vehicle which is cool. She was always kind and ok to be behind the scenes with decisions that my dad would make, she would go along with it knowing that he always did his best.
I guess there are so many things I could write about my mom and how she helped make us who we are today, I love my mom! Its going to be great to spend Christmas with the whole family this year!
This post has already been read 4097 times!