Ok, I have no idea if this has been thought of before but I promise, I thought of this today ;).
The Problem: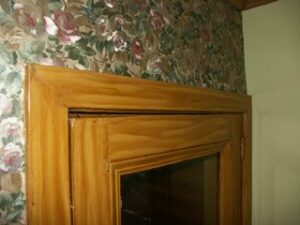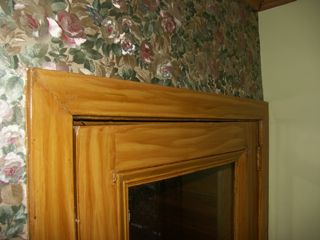 We are currently in an older home that we can't do much to ourselves (renting) and we have some big old doors going out to a sun porch that we won't be heating for the winter. The house is quite bent out of shape and therefore all the gaps in the door are uneven (see image), and in spots are quite wide and other places very tight.
Commercial solutions that I've seen won't work. I do have some foam backing road inserted in places but you need to purchase multiple sizes to deal with all the different size gaps 🙁 I don't want to spend that much, plus the foam stuff is hard to squeeze it, and its really meant for more permanent solutions. Most other commercial stuff has a sticky size or double sided tap which we don't want to use since its only seasonal, it has to come off in the summer without leaving any marks.
So, the solution is simple and free. We constantly throw out cereal boxes, and the cardboard in them is nice and thin and easy to work with. So, here are the steps below for creating your own seasonal weather stripping for rarely used doors (and some options further below for doors you do intend to use occasionally)
1) Find some old cereal or cracker boxes
2) Cut it length-wise into 1.5 to 2 inch strips (Bigger gap? Cut wider strips, 3 or 4 inches as needed, and they will flex to fill the gaps)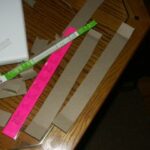 3) Fold in half length-wise with a ruler or table edge
4) Insert into any gap that you have. As you can see below, the first image shows the form road I had in the bottom section of the door, and the second shows the cardboard squeezed in. It will fill any size game there assuming you've cut it wide enough, and friction will hold it in place!
5) Keep stacking them one on top of the other all the way around the door – remember to hold your hand over the joints and sections to find any drafts and adjust as necessary!
Some improvements on this idea are:
Want to create long strips and be sure there are no gaps between sections? use masking tape to join all the sections you created to make a big long strip.
Use double sided tape on one side (the long side if you have a long side) and stick it to either the door or the door way, this allows you to open and close the door without the cardboard falling out and since the board is springy, it will always fill the gap.
Some cons here:
If you're using this on a door you use often, it may fall out (without double sided tape) or wear out (its just cardboard that you were going to recycle anyways 😉 )
May not look as nice –  but hey, its free
If drafts are strong or there is moisture prevalent, you may want to think about a commercial product. I suppose you could do a similar thing with an old 'crazy carpet'. It would be wanter resistant and provide nice long strips though it might not fit into small spaces as well, oh and its usually a 'crazy' colour.. but again, its free 🙂
This post has already been read 20347 times!