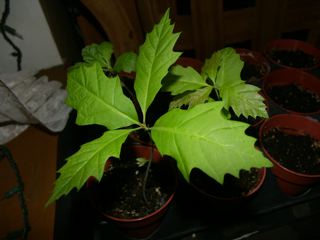 NOTE: I saw this old draft (Nov, 2009), figured I would publish it:
Ok, so first off, see the wonderfully big leaves on just one of our oak trees.
So, to the tent meeting. Well it wasn't really a tent meeting. Times of refreshing it was called, pentecostal it was. I'm a cessationist (if thats how you spell it), thats what I learned. The speaker was ok, said some interesting things, and then said some other things I didn't agree with. Overall, I guess it didn't change my view on things.  The speaker was Mark Griffin. The meeting was long, quite long. So ya, didn't get much sleep sunday, monday or tuesday. I'm going to make sure I catch up today.
On a completely different subject, I've been thinking about PEI some,  pumped at the prospect that we might soon head over that way. At the same time, its a bit unsettling, I know Lindsey feels the same way. I'm not one to make a big spiritual thing out of moving, ie, is it Gods timing, and all that. I think God gives us abilities, resources, strength, and opportunities to do things that we enjoy in life. He wants us to enjoy His creation just as He wants us to recognize Him as King and Saviour. So, that being said, my grand vision isn't to start a church or that we would be missionaries over there in the common sense of the word. What I want for Lindsey and I are children, and a house to call our own and a location that I feel good about laying down roots in.
Sounds simple and huge at the same time really. It is huge, thats my version of the 'canadian dream' and Lindsey is on board so far as I know 😛  We'd like to find a good church over there, fresh air and an acreage and have a family. Woot, excited just thinking about it. Its a beautiful place of lush colours, and sharp seasons, and open seas. You should all check it out!
This post has already been read 1462 times!