We got to walk down one of many memory lanes on PEI today. Finally found the old 'Rainbow Valley' location which is now partially obscured by an old motel along the main Cavendish drag. You ca see what is part of what looks like the original website here. We went there as a family years ago, I need to get some of Dads old sets of slides out to see if we have any pics.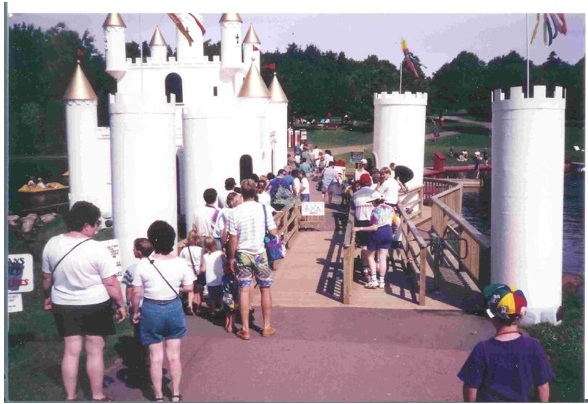 The above image is of the castle entrance that you have to walk through (between the two ponds) to enter the theme park.  It was open until 2006 when the owner decided to retire. PEI Parks purchased the land as it had divided the provincial park in two I believe going straight down to the ocean. There are lots of newer flashy theme parks which will become good memories for kids these days but this is one of the ones I remembered. Oh well, good memories. They have a plaque up now which tell of its story as a long time theme park, and they, though the grounds have no buildings that I see, are keeping it the way it was. The ponds are all but drained. The Park is allowing the ponds to return back to nature somewhat and have hiking trails all through it. So, Lindsey and I will return again on a sunny day and just see if there is anything left there.
I love all these old theme parks on the Island! And hey, the Bonshaw 500 is still going, so thats good 🙂
This post has already been read 2052 times!