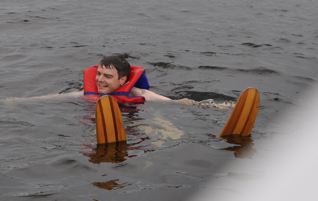 Finally I get around to posting. My brain hurts… I actually water-skied, that is awesome! Some pictures from the young adult weekend are on my photo gallery here.  Posted a movie too, um… its steaming on facebook, hey, I'll post on vimeo. I'll post the vimeo movie of the weekend, taken with my D90 (of course).
It was a great weekend, and yes, I've always wanted to waterski / learn how and I finally did it, took about 7 or 8 tries to get up, thats the tricky part. Once you're up, its really fairly easy. Like riding a bike I guess, once you learn how to stay balanced, its easy every time after that. It was very relaxing, I just walked around and took photos all weekend, did nothing else… other then water ski. It was just a little short, a long weekend would have been great.
This week has been busy, wrapping up things, getting all things of life in order for the move, getting the car fixed (wheel alignment). Funny story, went to Can Tire and they 'inspected' my car and came up with a list totaling $1400 to get it all up to speed. 😛 that included alignment, transmission fluid change, brake line flush, new plugs, throttle body cleaning, new brakes, rotors, drums all around, um, and they offered to clean out our fridge as well. Nutty! I said no thanks! I can't imagine someone spending 1400 at can tire for all that stuff :S
Anyways,… so this weekend we have family stuff, a YA party and lots more packing. We have a million tupperware containers. So glad we have a house ready for us to go to!
Stay tuned for the video, I'll post it next.
This post has already been read 953 times!