209 total views, 2 views today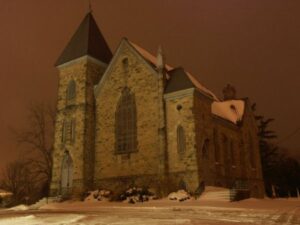 Seems I'm always TOO busy to write a blog these days. Need to clear my schedule, quit all the things I'm a part of 😛 Lindsey and I went out driving tonight, mostly because we missed going outside and doing caches, not much to do outside when its dark and cold here in Ontario. If I was up north and had a snowmobile, well that would be a different story. ANYWAYs, so we went out and took some night photos. check them out in the album. This is a picture of a church that Lucy Maud Montgomery and her husband lead, this is the second church they lead while living in Norval. Some of the ones in the album were taking in Glen Williams, and then Georgetown as well.  There were some 30 second exposures there, 15 second and then some 8 second. So a variety, the church was a 30 second exposure, it wasn't lit up at all and it was a cloudy night to begin with. No bright moon to take advantage of. A good image none the less.
This post has already been read 1285 times!