On this cold snowy day in Ontario (granted, its only -5 right now) as I'm looking through my iPhoto albums, I see the album from the day we went apple picking. How green and sunny it was! Here is an uber lame poem, written my Micah.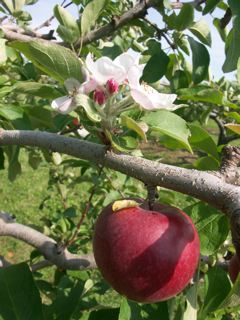 Summers sun with my hun
No better place to be
Then baking pies all afternoon
What a great life for we
Warm sunny days
Only minor levels of haze (tis southern Ontario after all)
as we bike and hike and laze
Rough running waters
Our toes in do wade
caches and trees and birds and bees
all this and more through the day
 We always take our camera with us, the now discontinued Konica Minolta DiMage A2, so we're always ready to record our memories and our lives via photo or movie clips (the movies will soon be posted, just need to find a spot for them on my site). 
As we adventure out into Gods handy work, I always am in wonder of its beauty!
EDIT: Most of our pictures were originally on facebook, so I'll be moving these albums over as time provides.
This post has already been read 1857 times!